Do you have concerns over the toxicity level of the recycled rubber crumb in your playing surface? We offer sports pitches rubber infill removal. If you are looking for more information on concerns raised, visit our article on Infill Health Risks.  In addition check out Prime Time's coverage on the topic. Primetime – Do Artificial Pitches Increase Your Risk of Cancer?
Sportslawn Ireland offer removal of SBR rubber crumb infill from 3G playing surfaces, while these concerns have yet to be confirmed this can offer piece of mind to customers.  Furthermore we offer infill replacement so your pitch remains in good working order. There are number of alternative crumb options and these will maintain the quality of the artificial grass.
See the comprehensive list of alternative infill options below. Our expert team can advise you on which product will work best for your astrof turf pitch.
Sports pitches rubber infill removal – How It Works
Sportslawn have specialist machinery capable of extracting any kind a infill material. View our Youtube video of our machinery at work – rubber crumb removal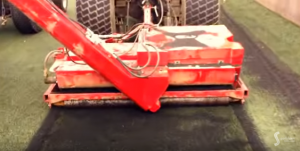 Comparison of different Infill Materials
Following sports pitches rubber infill removal there is a number of alternative options:
SBR
Advantages
Recycled material
Budget friendly
Frost free
UV stable
Durable
Good performance
Disadvantages
Black colour
Odour
Heat-warming-up
Dust, compaction
EPDM
Advantages
Different colours available
No odour
If min.20% EPDM==>ok
No heavy metals
Controlled quality
Disadvantages
Not recyclable(vulcaniszed)
Dust, low abrasion resistance
Porous material, can absorb water
Becomes hard in winter
TPE
Advantages
Different colours available
no odour
recyclable
no heavy metals
controlled quality
Disadvantages
low volume,7kg=10mm
need of a shockpad
become soft in summertime and can stick to the fibres
Geofill
Advantages
natural aspect
no odour
cool in summertime
no heavy metals
flame retardant
Disadvantages
mixture coconut-cork-TPE
compaction*
pH=5,4==> acid(possible reaction with fibre)
not recyclable(mixture)
micro-organisms present==>
change of structure
hard surface after few years due to compaction bad drainage
Naturafill
Advantages
100% pure nature product=oak
odorless
no micro-organisms
no heavy metals
100% recyclable
no additives
cool in summertime
soft in wintertime,not frozen
isolating properties (90% of cork is air)
stable + retain its shape
excellent shock absorbing properties
flame retardant
perfect drainage
controlled quality
no compaction
Disadvantages
colour become a little bit grey but keeps his fysical properties
* 13kg/m² Geofill has infillheight of 35mm ==> after 5200 cycles infill height is only 19mm ==> compaction==> low shockabsorbing properties( difficult to achieve FIFA 2* after 5200 cycles) 5kg/m² naturafill has infill height of 35mm ==> after 5200 cycles infill height is still 30mm==> NO compaction ==> high shockabsorbing properties even after 20.200 cycles 59% ==> by -5°C still 62% shock absorption